to see Lindsay and Chris for 2 days and just hang out. In fact, I was so busy jabbering away and enjoying myself that I rarely pulled out the ole camera.
Here's what I have.:
Dinner on Weds. night (most of it spent sitting in the glorious weather outside in the "Bermuda Triangle" restaurant area amidst LOTS of World Cup watchers...cheering for
Spain
)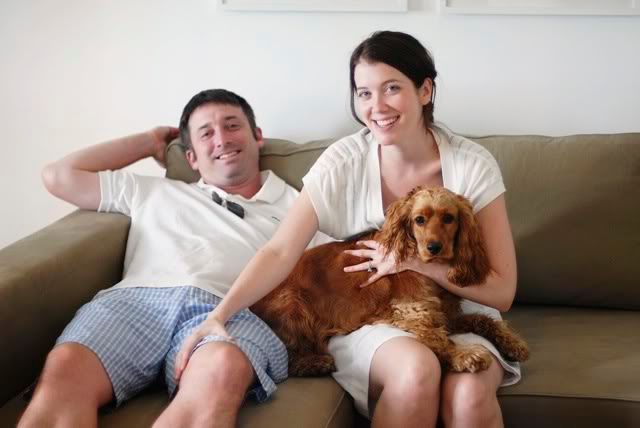 dang cute.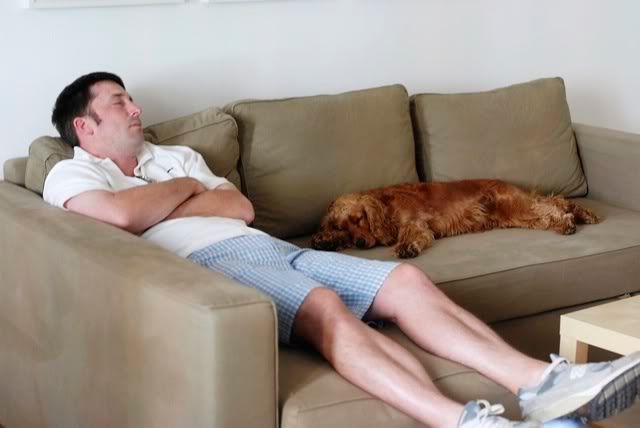 whoops..didn't have anything planned for this hour and look what happened.
A little dog lovin' during some political discussion. It was bound to happen...esp. after some vino and DElicious Beef Stroganoff and Greek Salad (ingredients gathered at the farmers market earlier that day and cooked by Chef Chris.)
You like how we roll here with our fancy wine glasses?
I know it's ridiculous that the brown bomb is in 3 of the 4 measly photos. She obviously charmed Lindsay, though.
To the fam: Linds got more pics. I wish I had looked through their France and Salzburg photos while they were here, but we'll hopefully be seeing them shortly. To read about Pops', Mimi's and Molly's first day in Paris...go
here
.
The weather could not have been better the past two days for their visit...cool, breezy and sunny with clouds here and there to provide some occasional UV relief. We didn't go crazy sight seeing, but instead enjoyed lunch on the Schloßberg, walks through the city, drinks, naps, fine cuisine and mostly great conversation. I'm not used to seeing family and friends, obviously, and I get so revved up and possibly annoyingly jib-jabbery when they're here...asking lots of questions about people and life back home, spilling about life here and sippin' on a cocktail or three.
It's great stuff. It all starts again tomorrow too! So...tootaloo!



Here's Chris' write-up on their time in Salzburg: Can't wait to go next week!





Day ten of our European voyage has us departing Salzburg, our favorite city so far. When Air Berlin shockingly told us they would no longer be flying us from Nice to Salzburg on July 5 and we would have to travel on July 4 or 6 to get there, we had to scramble and decide whether to cut our French Riviera stay short or truncate our Salzburg stay. we opted for the former option and the Air Berlin snafu turned out to be a blessing in disguise. We were greeted here three days ago by gorgeous mountains, crisp, cool air, Bavarian architecture, and open space not found in France.





We were dead tired but the new scenery gave us a Red Bull - like shot in the arm, or should I say kick in the arse (Red Bull was created here)? Our hotel was modern with all conveniences, even an electronic heated towel rack, but NO A/C. We soon learned we didn't need it with Austria's pleasant summer climate.





We ate by the river that night and woke up the next day to a great breakfast spread. We took complimentary bicycles to the Old Town district and viewed Mozart's birthplace, the stunning cathedral, and then the fortress at the top of a cliff overlooking the town. Built from 1077 through the 1600s, it was so imposing at such a great height that it never saw battle. We toured the inside of it and saw old weapons, ornate state rooms, torture chambers, and dungeons. Outside were breathtaking views of the entire city.





Back down on the town center, we continued our walk and saw the festival arena from the end of Sound of Music and then went down the high-end luxury street. We ducked into Sporer, the local Spec's who makes his own spirits. Two shots later, we were happily riding our bikes back to our hotel after an action packed day. Dinner was goulash and schnitzel and giant pretzel bread and the best weissen beer ever made.





The next day we did the Sound of Music tour which sounds terrible but it was the opposite. Castles, luge, lake vistas rivaling the most beautiful natural sights in the world, and strudel stops made for a memorable day around a 70 mile radius of the city. Rose Maria took us and a young couple from Nashville via a new VW minivan and it was cozy and personalized.



Off to Graz to finally see Carolyn. More later.