We left Munich on Monday and before heading to Lindau on Lake Constance, we decided to go a little out of the way to see the Neuschwanstein Castle that we hadn't made time for while we were in Munich. The castle is a 9th century Bavarian palace on a rugged hill commissioned by
Ludwig II
as a retreat and as an homage to
Richard Wagner
, the King's inspiring muse. (You know these guys, right?) It is the most photographed building in Germany and one of the top tourist destinations.
First off, Disney totally ransacked the design for their castle in their logo and their parks...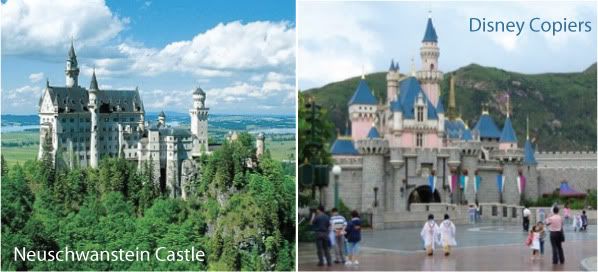 The town is really cute and has a lot of nice little hotels. The weather was perfect and the air smelled so good.

On our 30 minute hike up. We kinda wanted to do a carriage ride, but there was a long line and we figured we should get some exercise for these Pretzel-chompin' buns anyways.
Pretty view along the way..(not much different from suburban Graz though!)
See where those people are? This is where I took the previous picture.