Lindsey and I had a great time in Prague. Such an enchanting little place of cobblestone streets and
old world architecture. Here we are the first night in the famous Old Town Square
where
Prague
started around 700 years ago. You can see the famous Astronomical Clock
on the left and the Church
of Our Lady Before Tyn behind us.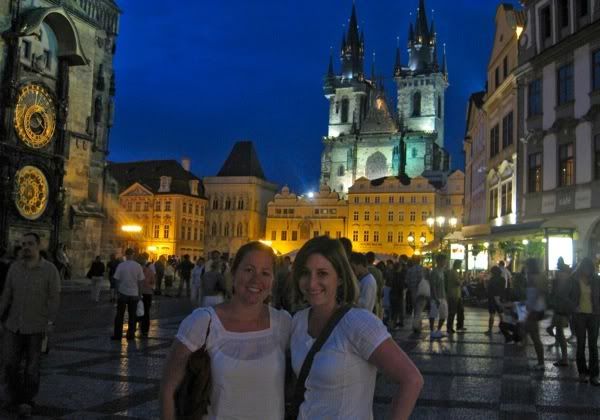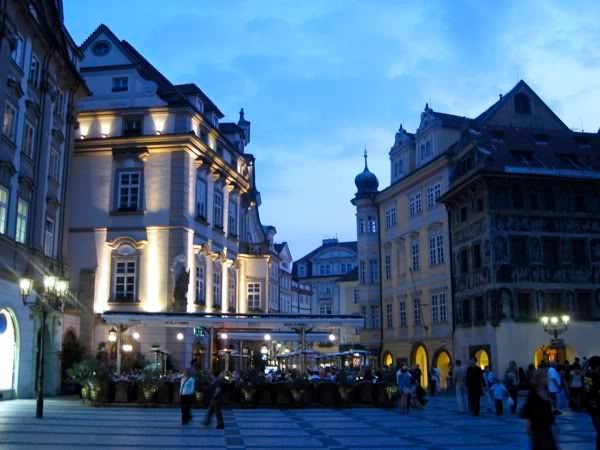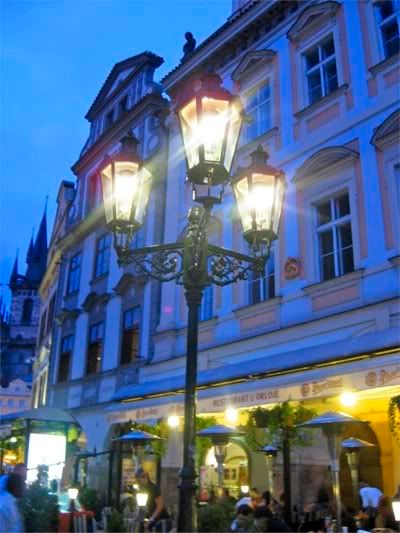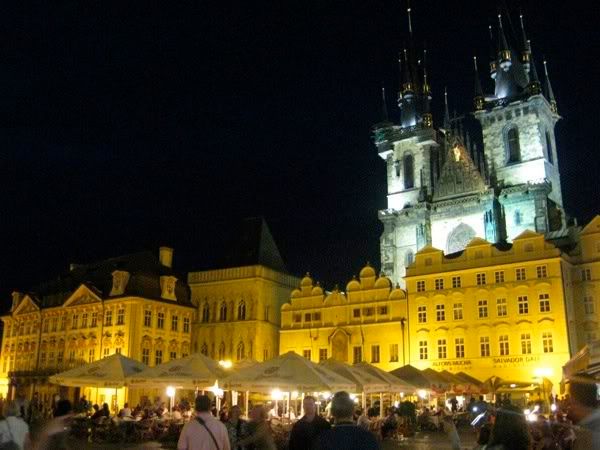 Our cozy, quaint, lush Hotel Ventana.
and the river...the best part of the city in my opinion.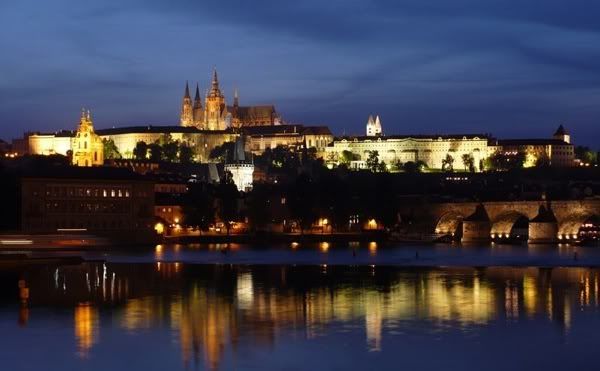 Before I add more pics of the city, I thought I'd show you how I roll...here's my first class compartment
on the train ride up. All fo' me. Three seats on either side. You betcha I be takin an Advil PM and
laying my bones down across the seats while the luscious countryside rolls by. This is how we've been
traveling the whole time. We have Eurrail passes that allow us to travel anywhere in Austria, Germany
and the Czech Republic any 6 days out of 2 months in first class. You don't always get lucky and get your
own little room and some trains don't have the rooms.
The trains are known to be amazingly well run and on time all the time, especially in Germany and Austria.
That is something I can really appreciate about the Germans and Austrians...they don't make impatient Coco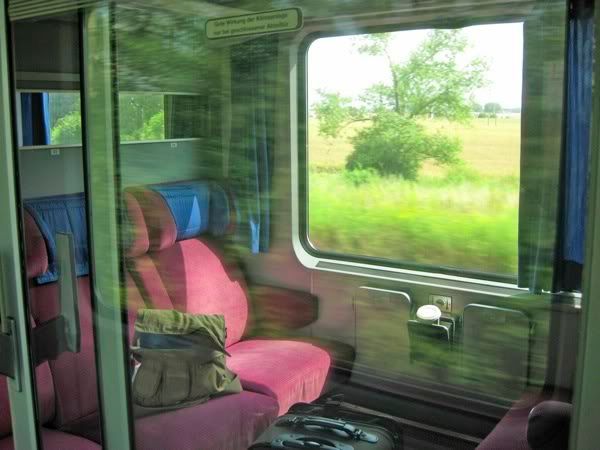 Ok, back to pretty Praha...
The first night by the Vltava River that runs through the city..unintentionally dressed alike. (The balloon
perched over our heads takes two people in a chair-like thing and lifts them up high to see the city.)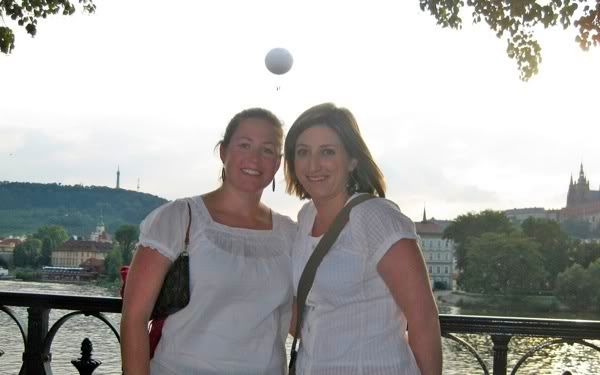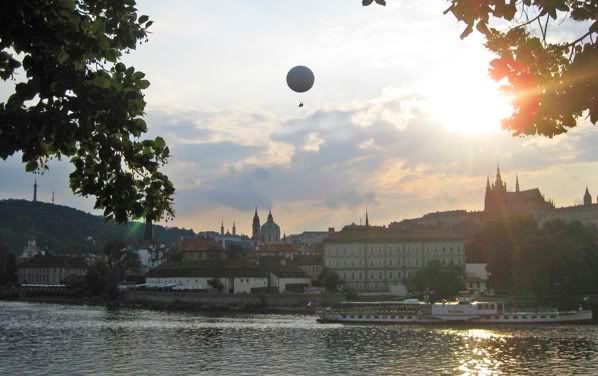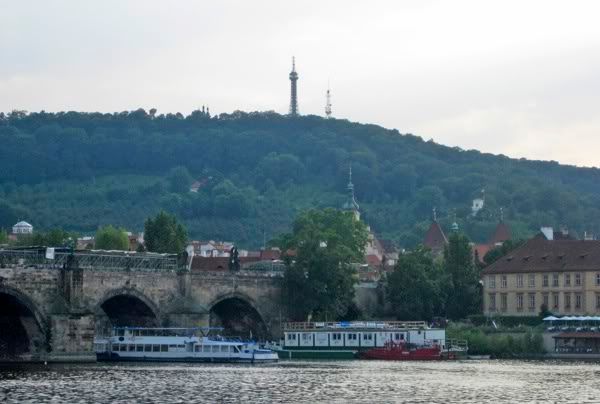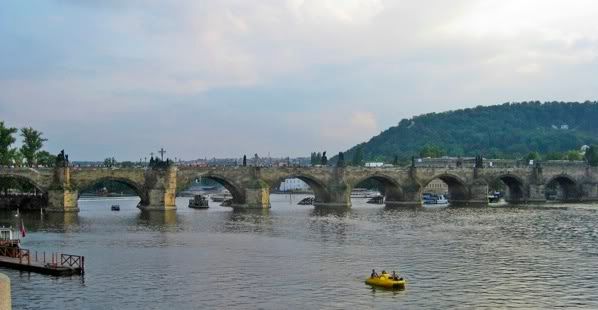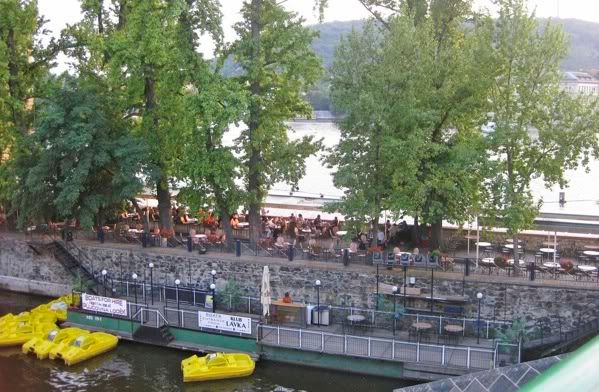 Day 2 we went up to see the Prague Castle...
in our matching shoes (Privos...very comfy!) that we bought together back in May while I was in Houston.
and on our way we saw this street.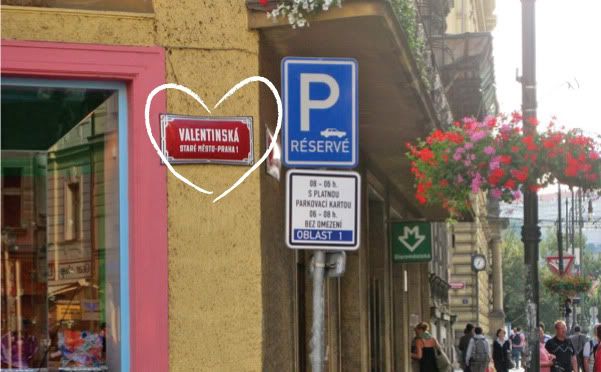 And, had to stop by Starbucks (at least 3x a day) to check E-mail and Facebook from their WiFi. We
loved receiving a little love on Facebook after posting some mobile pics of Prague the night before.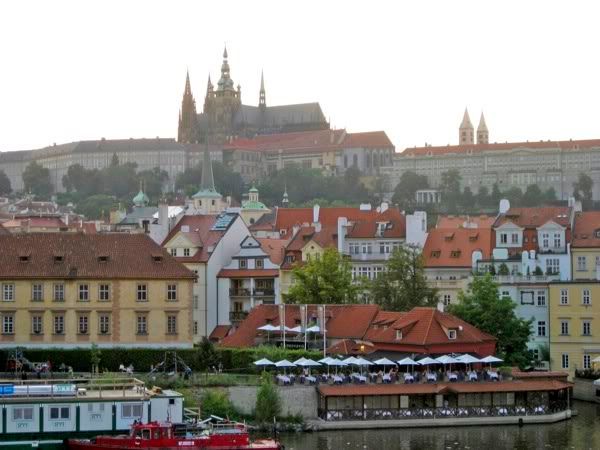 The entrance to Charles Bridge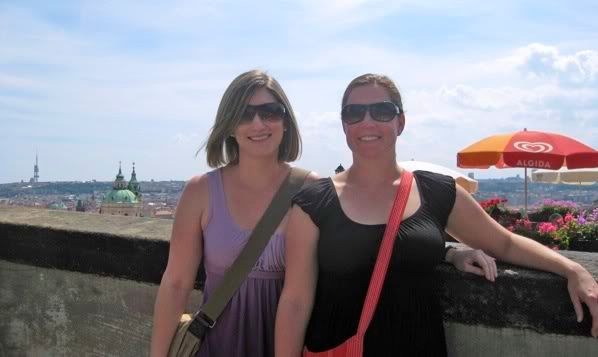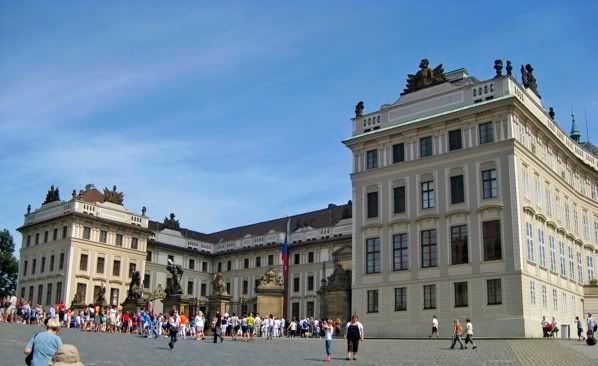 St. Vitus Cathedral located within the castle and the seat of the Archbishop of Prague contains the
tombs of many Bohemian kings. It is a perfect example of Gothic architecture and the biggest and
most important church in the country.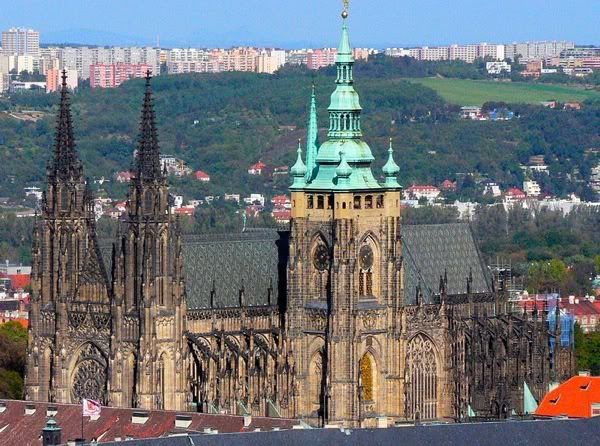 Inside...there were so many pretty stained glass windows you can't see here and of course it was HUGE.
The famous Czech Art Nouveau painter, Alfons Mucha, decorated the newer windows in the church.
I studied him a lot at The Art Institute and it was cool to see a lot of his work around all of Prague.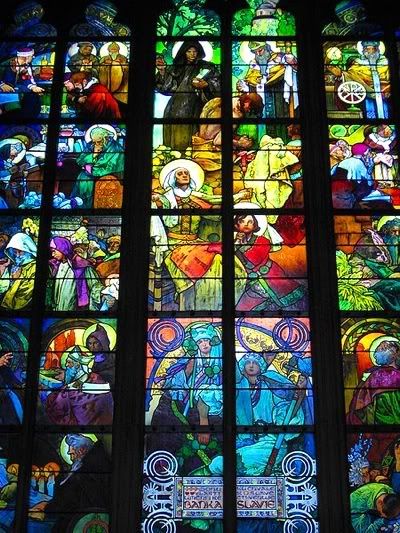 On the way down, we got a lot of pretty views.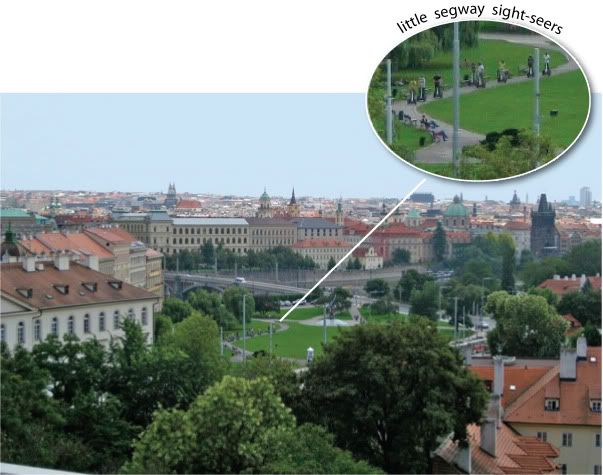 These souvenir stores are everywhere. If you ever need a pashmina, anything crystal or the little
growing Russian dolls that fit inside each other...this guy will help you out.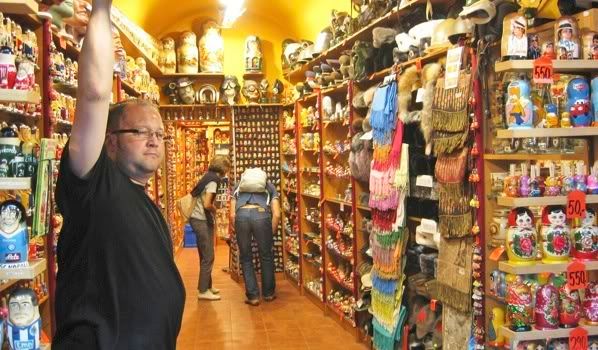 And we passed a lot of canines. This was the only one that warranted a photo. Lindsey was sort of
appalled that I could name the breed on the spot. "How did you go from hating my dogs growing up
to knowing everything about them?". "Well, Linds, a little blond bombshell named Ty changed my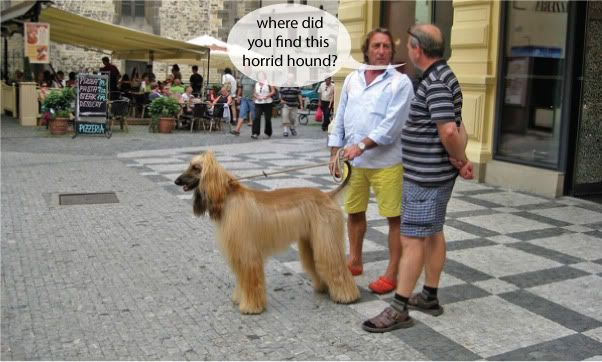 Here is the famous Astronomical Clock that is always surrounded by mobs of tourists that are just staring.
They are waiting for the little men that come out on the hour and spin.
After all that sight seeing, we needed a little break.
The next night we got a little snazzed up in our purple and went to the Prague Ballet...Swan Lake.
It was actually pretty wondey and we felt so sophisty...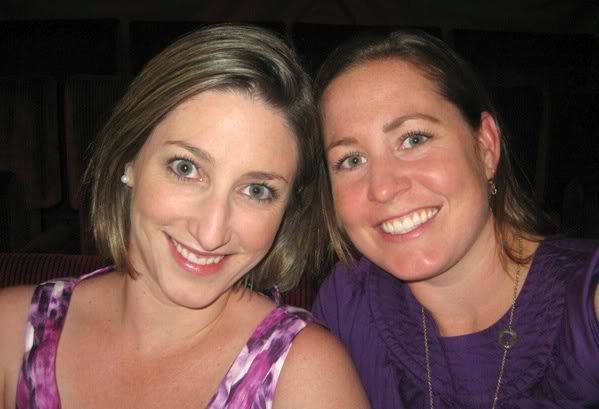 And the next night, we went to performance #2, the Krizik Fountain light and music show.
I had my Fanta, Lindsey her Cola Light and we were perked to experience some water wondiness.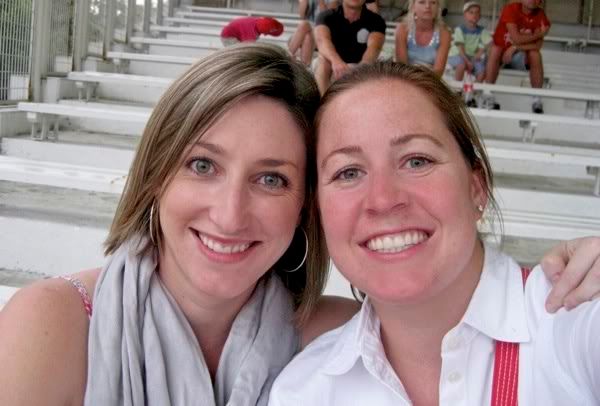 This place took awhile to get to and was in a crusty, creepy part of town. Please share in our
experience with this video:
It was horrific! Every song was by Toni Braxton or R. Kelly or something to that effect.
The water would shoot up during higher notes. There were no cool lighting effects..prob because it was still light. We turned to each other and started laughing and a little bit crying. Needless to say, we bolted.
We went to our favey restaurant instead.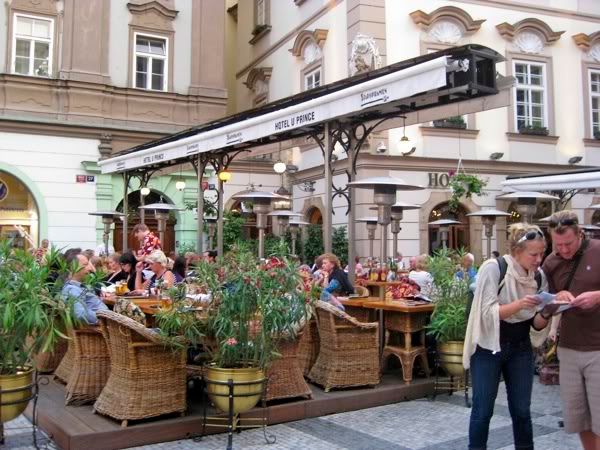 Performance #3 was on our last night...we had to check out one of their Blacklight Theatre Shows.
We were hoping it was at least 3 stars better than the R&B rockin' fountain.
It was! It wasn't top notch theatre, but it was fun and different and sort of Alice in Wonderlandy.
Now, we're both in Graz (with Art) and we're having fun. It's so nice to have my friend here.
M
o
r
e
p
i
c
s
o
n
t
h
a
t
l
a
t
e
r
.
.
. Tschuss!